Microneedling NYC
What is a Microneedling Facial?
At Lena Skin Care, Lena offers a number of high-quality treatments and services, including relaxing facials, effective waxing treatments, and microneedling. A minimally invasive procedure, this treatment involves the use of a microneedling dermapen that is rolled across the skin of the face. Although relatively new, this method has been in practice for over 20 years and has helped many individuals to experience revitalized skin and a more youthful complexion.
As mentioned, microneedling on face involves the use of a dermapen, a device that is covered by very fine, sterile needles. When rolled across the face, it leaves behind tiny punctures in the skin which are very shallow. By creating these tiny "trauma" areas, the skin's collagen production is boosted, thereby reducing the appearance of wrinkles and scars and increasing the fullness and vitality of the skin.
While some individuals may seem deterred by the use of needles, Lena assures her patients that the punctures are more like pin pricks and cause minimal discomfort and side effects. In fact, many individuals find the process soothing. Not to mention that the great results leave people coming back for additional routine treatments.
What are the Benefits of Microneedling?
There are a number of microneedling benefits, ranging from plumper skin to a smoother complexion. Essentially, due to the minor inflammtion and swelling caused by the procedure, the skin appears pinker and more vibrant. While temporary, the results of the treatment typically last for a period of two weeks or more.
Although it's true that you cannot expect the immediate results of a microneedling facial to last for more than a couple weeks, there is plenty of evidence that face needling on a frequent basis can lead to a signficant boost in elastin and collagen in the area of treatment. In fact, those who received four sessions each spaced a month apart reported positive results for as long as six months after the final treatment.
Microneedling acne scars can also help to reduce the signs of blemishes and facial scarring. Not only this, but the treatment also helps to stimulate new hair growth, making it a helpful treatment for those who are concerned with their hair growth. Additionally, treatment with a microneedling pen has been shown to reduce the appearance of cellulite, which plagues men and women of all ages. Due to its ability to plump the skin, many of Lena's clients turn to this technique as a means of blurring cellulite as well as fine lines and wrinkles.
Face needling is a helpful treatment when used on its own but it can also be combined with other skincare treatments to boost positive results. Often used with topical treatments, such as masks and lotions that are made more effective once the skin is covered with micropunctures, microneedling on face and other areas of the body is a versatile treatment that can be tailored by professionals like Lena to meet the wants and needs of the clients.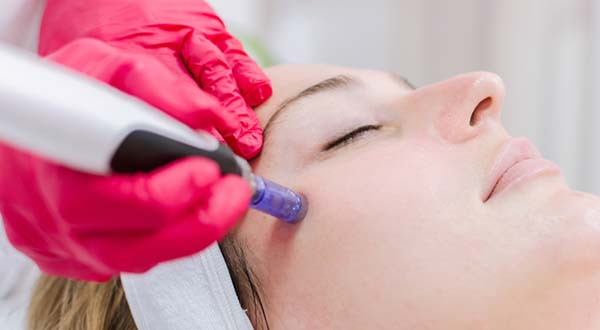 Microneedling NYC – Lena Skin Care NYC – Call (347) 289-3879
Contact Lena Skin Care
If you are interested in learning more about the skin rejuvenation treatments available to you, Lena is a great resource. With over 20 years of experience and education in the field of esthetics, Lena has helped many clients to find the best possible solutions for their skin. From teenagers with acne to adults who are concerned with the signs of aging on their face, Lena has worked with a number of cients with a variety of different needs. Rest assured that she is well prepared to handle any requests and needs that come her way.
Whether you're looking for a new cosmetologist in the Manhattan area or you are considering pursuing esthetic treatments for the first time in your life, we invite you to give us a call at (347) 289-3879. Our friendly staff will happily answer all of your questions and assist you in scheduling an appointment at our luxury salon.
Microneedling NYC
Lena Skin Care NYC provides microneedling for clients from NYC and these surrounding areas:
New York NY, Manhattan NY, NYC, Bronx NY, Brooklyn NY, Queens NY, Staten Island NY, Battery Park City NY, Financial District NY, TriBeCa NY, Greenwich Village NY, Little Italy NY, Lower East Side NY, NoHo NY, SoHo NY, Chinatown NY, Wards Island NY, Washington Heights NY, West Village NY, Alphabet City NY, East Village NY, Lower East Side NY, Two Bridges NY, Chelsea NY, Clinton NY, Gramercy Park NY, Kips Bay NY, Murray Hill NY, Peter Cooper Village NY, Stuyvesant Town NY, Sutton Place NY, Tudor City NY, Turtle Bay NY, Inwood NY, Spanish Harlem NY, Waterside Plaza NY, Lincoln Square NY, Manhattan Valley NY, Upper West Side NY, Lenox Hill NY, Roosevelt Island NY, Upper East Side NY, Yorkville NY, Hamilton Heights NY, Manhattanville NY, Morningside Heights NY, Harlem NY, Polo Grounds NY, East Harlem NY, Randall's Island NY
Learn more about the waxing and skin care services offered by Lena Skin Care NYC here.