Lip Wax NYC
Why Wax Your Upper Lip?
Both men and women alike can benefit from the painless wax upper lip hair removal offered by Lena, a professional esthetician with over 20 years of experience providing face wax services and other hair removal techniques to clients both in Russia as well as the United States. At Lena Skin Care, individuals with a variety of needs can enjoy a quality upper lip wax that can successfully remove everything from coarse hairs to pesky peach fuzz.
Unlike with shaving and other less precise techniques, waxing facial hair allows for specific areas of the face to be addressed, thereby ensuring that you obtain optimal results. Not to memntion, an upper lip wax yields results that last considerably longer than other methods.
Benefits of Lip Waxing at a Spa
While it's definitely possible to perform a DIY treatment at home, there are a myriad of benefits to seeking the assistance of a professional like Lena. Not only is it more relaxing to receive luxury, high-quality treatments, but it also reduces the risk of scabbing and burns that are all too common when face hair removal wax is used at home.
At a waxing salon like Lena's, you can rely on the guidance and care of a qualified expert who uses nothing but the most gentle and safe materials and techniques to achieve smoother, revitalized skin. When done correctly, Guinot treatments can last for up to a month and frequent sessions can even reduce hair growth as well as the amount of pain experienced during the therapy.
Whether you are dealing with a small amount of peach fuzz that you want to eliminate or you have noticeable hair that you want gone, the facial treatments and waxes offered at Lena's waxing salon were made for you. Lena is committed to getting you the best results possible and she will work closely with you to customize your treatment so that you are as pleased as possible with the outcome. In fact, her incredibly hygienic and high-quality services have made her one of the most sought-after estheticians in the Manhattan area.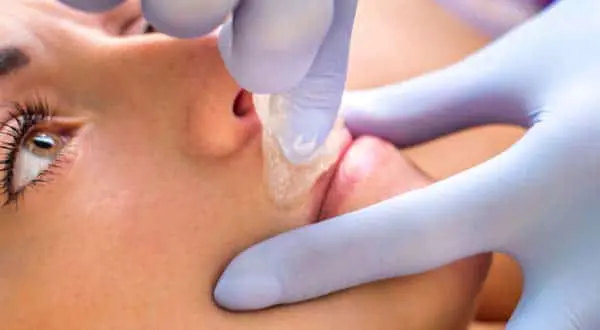 Lip Waxing NYC – Lena Skin Care NYC – Call (347) 289-3879
What is a Lip Wax?
What Happens During a Lip Waxing Appointment?
Prior to beginning, Lena will make sure that the area is cleaned throughly. Not only does this make the treatment easier to perform, but it also prevents the occurence of excessive irritation and even infection following the session.
Once the area has been thoroughly cleaned, Lena will apply wax to the skin of the upper lip and then lay strips down over the wax. Pulling quickly, she will remove the strips going against the direction of hair growth. This ensures a clean removal of the hair and will minimize the amount of discomfort experienced.
Once the process is complete, Lena will apply aloe or another soothing product to the face so as to mitigate any redness and sensitivity. From beginning to end, there is no doubt that she has her client's best interests in mind and is interested primarily in ensuring a quality experience for each of her visitors.
Whether this is your first appointment or you are very familiar with the face wax process, you can rest assured that you are in good hands with Lena. Have concerns or questions that you want to have answered prior to treatment? Simply ask. Lena is eager to answer all questions and to make sure that her clients are as comfortable as possible.
Contact Lena Skin Care NYC About Lip Waxing
If you are looking for a quality facial spa in New York City and you are asking yourself "how do I find the best facial waxing near me", look no further than Lena's clinic. With over two decades of experience, you are ensured a great experience each and every time. She has consistently served both men and women, teens and adults, and is fully qualified to address a number of varying needs.
You deserve to feel confident and secure in your skin, and no one believes that more than Lena. To learn more about the services she offers or to schedule an appointment for yourself or a member of your family, give us a call today at 347 289-3879.
Lip Wax NYC
Lena Skin Care NYC provides lip waxing for clients from NYC, NY and these surrounding areas:
New York NY, Manhattan NY, NYC, Bronx NY, Brooklyn NY, Queens NY, Staten Island NY, Battery Park City NY, Financial District NY, TriBeCa NY, Greenwich Village NY, Little Italy NY, Lower East Side NY, NoHo NY, SoHo NY, Chinatown NY, Wards Island NY, Washington Heights NY, West Village NY, Alphabet City NY, East Village NY, Lower East Side NY, Two Bridges NY, Chelsea NY, Clinton NY, Gramercy Park NY, Kips Bay NY, Murray Hill NY, Peter Cooper Village NY, Stuyvesant Town NY, Sutton Place NY, Tudor City NY, Turtle Bay NY, Inwood NY, Spanish Harlem NY, Waterside Plaza NY, Lincoln Square NY, Manhattan Valley NY, Upper West Side NY, Lenox Hill NY, Roosevelt Island NY, Upper East Side NY, Yorkville NY, Hamilton Heights NY, Manhattanville NY, Morningside Heights NY, Harlem NY, Polo Grounds NY, East Harlem NY, Randall's Island NY
Learn more about the waxing and skin care services offered by Lena Skin Care NYC here.