Hydrafacial NYC
What is a Hydrafacial?
As a medical-grade quality treatment designed to cleanse, detoxify, exfoliate, hydrate and extract, the Hydrafacial is a highly effective treatment for those with a number of different skin types. Whether you have oily, sensitive, or even significantly aging skin, this therapy has the ability to reduce the appearance of wrinkles and fine lines, minimize pore size, and eliminate hyperpigmentation.
Typically taking between 30 to 90 minutes per session, this treatment not only treats the skin but it also infuses the face with healthy serums to nourish and revitalize. When pursuing a therapy of this nature, it's imperative to seek out a qualified professional like Lena who has considerable experience offering clients high-quality treatments that are both safe and effective.
What Happens During The Hydrafacial For Acne Treatment?
As is the case with microdermabrasion, the chemical face peel, and face wax treatments, hydro facials begin with the cleansing of the skin in order to prevent irritation and infection after the session. Following a thorough cleansing, Lena will exfoliate the skin during an acne treatment facial so as to remove the dead skin cells. Through the use of a deplaning tool, makeup and other debris can be successfully removed without damaging the skin. It also assists in opening the pores so as to better extract and hydrate the face during the remainder of the treatment.
Following exfoliation, the next step is the acid peel. While you may hear the term "chemical face peel" and be concerned, rest assured that Lena uses the most gentle and yet effective materials. This means that you can expect great results without stinging or discomfort either during or following the treatment. In fact, many clients report feeling no discomfort at all.
Perhaps the most fascinating part of the facial treatment, and yet arguably the most icky, is extraction, which is the next step of the process. Using a nozzle that serves as a vacuum, Lena is able to extract dirt from the pores on the face. Unlike in other facials or during manual extraction procedures, there is virtually no discomfort or irritation.
The last, but very important step, is to apply soothing serum to the skin using a device known as a vortex-fusion tool. Used to apply antioxidants and collagen to the skin, it promotes elasticity and hydration in the skin, boosting the positive facial benefits of the treatment. Typically, serums leave your face feeling a little tingly at first. With that being said, they are designed with the wellness and radiance of your skin in mind. By promoting hydration and rejuvenation in the skin, this treatment is sure to leave you with little to no irritation.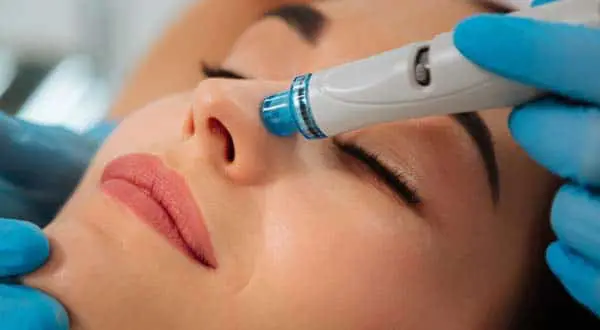 Best Hydrafacial NYC – Lena Skin Care NYC – (347) 289-3879
What are the Benefits of the Treatment?
There are a number of hydrafacial benefits, which all together create an incredibly powerful treatment that is highly sought-after by countless individuals in the Manhattan area. Not only do the serums and extraction techniques used during the treatment help address acne and other issues, but they also help promote overall healthy skin.
There are a number of facial treatment benefits that Lena's clients enjoy due to their hydrafacial results. Among other things, the treatment is able to reduce:
Whiteheads, blackheads, and other blemishes
Fine lines and wrinkles
Dehydrated skin
Hyperpigmentation and uneven skin tone
Brown spots
Sun damage
Enlarged and congested pores
Acne and oily skin
Along with Guinot facials, this treatment can be a highly effective means of keeping the skin looking younger and more radiant.
Contact Lena Skin Care NYC to Schedule a Hydrafacial
At Lena Skin Care NYC, clients have come to rely on high-quality, luxury products and services that are arguably some of the best in New York City. Whether you are looking for a waxing salon where you can receive effective and comfortable waxing services or you're interested in more targeted, high-end treatments, Lena's spa is the place for you.
With a large list of products and services, each carefully tailored to meet the specific needs of the client, Lena is able to provide a quality experience that is sure to please. If you're looking for a little luxury now and again or you're in need of an esthetician who can provide you with regular, routine treatments, you've come to the right place. Give our office a call today at 347 289-3879 to learn more about our services or to schedule an appointment at our comfortable and relaxing office.
Hydrafacial NYC
Lena Skin Care NYC provides hydrafacials for clients from NYC and these surrounding areas:
New York NY, Manhattan NY, NYC, Bronx NY, Brooklyn NY, Queens NY, Staten Island NY, Battery Park City NY, Financial District NY, TriBeCa NY, Greenwich Village NY, Little Italy NY, Lower East Side NY, NoHo NY, SoHo NY, Chinatown NY, Wards Island NY, Washington Heights NY, West Village NY, Alphabet City NY, East Village NY, Lower East Side NY, Two Bridges NY, Chelsea NY, Clinton NY, Gramercy Park NY, Kips Bay NY, Murray Hill NY, Peter Cooper Village NY, Stuyvesant Town NY, Sutton Place NY, Tudor City NY, Turtle Bay NY, Inwood NY, Spanish Harlem NY, Waterside Plaza NY, Lincoln Square NY, Manhattan Valley NY, Upper West Side NY, Lenox Hill NY, Roosevelt Island NY, Upper East Side NY, Yorkville NY, Hamilton Heights NY, Manhattanville NY, Morningside Heights NY, Harlem NY, Polo Grounds NY, East Harlem NY, Randall's Island NY
Learn about the Hydrafacial and other facials that Lena Skin Care NYC provides, by visiting this page.