Facial Lower East Side NY
What is a Facial?
At Lena's skin care clinic, clients from Lower East Side NY can enjoy a number of quality, luxurious treatments. Perhaps one of the most commonly sought after treatments is the facial, a type of skin care treatment that can involve a number of steps and techniques, including massage and mask, exfoliating treatments, peels, lotions and creams, extraction, and steam. Not only are these types of treatments helpful for maintaining overall skin health, but they can also be an effective means of eliminating blemishes as well as the appearance of wrinkles and other telltale signs of aging.
At Lena's Skincare, patients from Lower East Side NY can enjoy arguably the best facial in the Manhattan area. As a trained professional with over 20 years of experience, Lena knows how to provide patients with a professional and enjoyable treatment that leaves their skin looking younger and healthier.
Guinot Express Facial Lower East Side NY
As a Guinot expert, Lena has significant experience providing these treatments, which include basic cleaning, exfoliating, massage, mask, and toning. Quick and effective, the Guinot Express Facial is the ideal choice for those who don't have a lot of time on their hands and are looking for a quick and relaxing way to enjoy the many facial benefits of the treatment. Lasting between thirty to forty-five minutes, these "Guinot Express" treatments pack a great deal of benefit into a single session.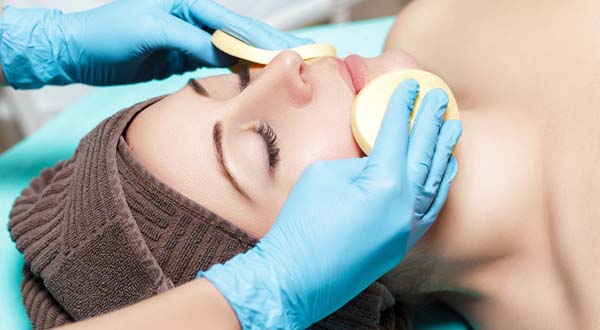 Deep Cleaning Facial Lower East Side NY – Lena Skin Care NYC – (347) 289-3879
Deep Cleansing and Hydrating Treatment Lower East Side NY
For those who find themselves with acne blemishes and fighting breakouts, the deep cleaning and hydrating skin therapy begins with a gentle and invigorating massage and continues with a thorough cleansing and exfoliating. Unlike the shorter Guinot option, this hour-long treatment includes deep pore extraction, which can be a great way to rid your face of blackheads and dirt. It's no wonder that Lena's deep cleaning and hydrating therapy is considered to be one of the best acne facial options in the NYC area.
Hydradermie Lift Lower East Side NY
This highly sought-after treatment has a myriad of benefits, including minimizing the appearance of wrinkles and fine lines, increasing the skin's radiance and lifting and rejuvenating the face, all within a convenient and efficient 60-minute session.
By utilizing this treatment, Lena is able to help her clients drain toxins from the skin to brighten and tone. The treatment's stimulation of the muscles in the face also helps reduce signs of aging, not to mention relax the face and restore vitality and vibrancy to the skin.
Beaute Neuve Lower East Side NY
During this reinvigorating hour-long treatment, Lena incorporates Vitamin C and fruit acid into a therapy to help eliminate dead skin and brighten tone. Ideal for those with uneven skin tone, Beaute Neuve reduces pigmentation, exfoliates the skin, reduces the appearance of fine lines and wrinkles, hydrates the face, and firms the skin.
It's truly amazing how powerful exfoliating can be to the health and appearance of your skin. The gel Lena uses to exfoliate serves as a gentle way to minimize wrinkles and spots, promote a clearer complexion, and soften lines, all while cleansing pores!
Deeply nourishing to the skin, the active ingredients work to soften, regenerate, and soothe even the most sensitive skin.
Aromatic Facial Lower East Side NY
Through a combination of essential oils and a soothing massage, Lena uses the 60-minute aromatic facial as a means of hydrating and energizing the skin. Made complete with a plant-concentrate mask that helps to reduce wrinkles and nourish the face, this treatment has several amazing benefits. Among other things, clients pursue this therapy as a means of helping relax the face's features, minimize oil production, restore radiance, and reduce the appearance of fine lines.
Essential oils can be a powerful, all-natural tool in the hands of a trained professional, and Lena understands more than most how to personalize and blend the oils in order to create a soothing and enriching experience for her clients and their skin. While enjoying a relaxing massage, the skin is allowed to absorb a nourishing mix of essential oils that smooth the face and leave it more radiant than before.
Best Hydradermie Double Ionization – Lena Skin Care NYC – (347) 289-3879
Hydradermie Double Ionization
Known throughout the world as one of the best, most cutting-edge skin care treatments, this hour-long therapy has been known to deep cleanse, moisturize, and increase the radiance of the skin.
In this personalized treatment, Lena carefully crafts the gels used to match the needs of her clients and their skin. Through oxygenation, Hydradermie Double Ionization helps to eliminate bacteria and cleanse the skin, reducing the likelihood of breakouts and acne. To make the treatment both relaxing as well as effective, Lena provides a soothing massage designed to soften the features of the face and rejuvenate the skin and muscles.
Back Facial Lower East Side NY
Popular among both men and women, the back facial is the ideal way to treat the skin of the back. Lena incorporates a number of valuable therapies into her back treatments, including exfoliation, massage, and deep cleansing. Her ultimate goal is to revitalize the complexion and reveal smoother, brighter skin. After all, even your back deserves a little pampering now and again!
What Are the Benefits of a Facial?
From express treatments that take no longer than thirty minutes to hour-long microdermabrasion facials, there's no denying that skin therapies of all kinds can deliver a myriad of benefits, especially when delivered by a professional and highly-experienced cosmetologist like Lena.
Just some of the many benefits provided by these treatments include:
Elimination of whiteheads and blackheads
Reduction in fine lines and wrinkles
Skin rejuvenation
Pigmentation correction
Stress reduction and relaxation
Improved blood circulation
More toned and tighter skin
Whether you have a particular skin condition you're looking to alleviate or you are simply looking for a relaxing and revitalizing experience at a comfortable and welcoming facility, Lena's Skincare is certainly the place for you.
How To Find the Best Cosmetologist and Spa for Lower East Side NY
In a city as big as NYC, it can often be challenging to find the right professional, largely because there are simply so many to choose from. Fortunately, however, there are a number of ways to identify which esthetician is the right choice for you.
Lena has over two decades of education and experience in the field of esthetics and has provided affordable spa treatments and therapies to countless individuals in both Russia and the United States. Her clients come to her not only due to her experience and expertise, but also for her gentle methods and her soothing touch.
She truly cares about her clients and her wide assortment of therapies ensure that all clients receive the best possible care for their unique skin care needs. If you are looking for a Guinot expert who can offer you friendly service and effective treatments, Lena is eagerly awaiting your call at her skin care clinic.
Contact Lena Skin Care NYC
Whether you are looking for waxing services or you would like to make an appointment for one of Lena's great skin treatments, we encourage you to give us a call at (347) 289-3879. Lena and her staff are eager to assist and to help you customize your therapy so that you can get the most benefit our of your experience.
Lena is committed not only to your health and your wellbeing, but also to your satisfaction and overall experience. When you schedule an appointment with Lena, you can expect to receive your treatment from a trained professional who offers a caring approach that is sure to leave you wanting to come back time and time again. Not sure which treatment would be best for you? Just ask, and Lena and her staff will work with you to make sure that you are receiving the very best possible treatments for you and your skin.
Best Facial Lower East Side NY
Lena Skin Care NYC provides facials for clients from Lower East Side NY and these surrounding areas:
Lower East Side NY, Manhattan NY, NYC, Bronx NY, Brooklyn NY, Queens NY, Staten Island NY, Battery Park City NY, Financial District NY, TriBeCa NY, Greenwich Village NY, Little Italy NY, Lower East Side NY, NoHo NY, SoHo NY, Chinatown NY, Wards Island NY, Washington Heights NY, West Village NY, Alphabet City NY, East Village NY, Lower East Side NY, Two Bridges NY, Chelsea NY, Clinton NY, Gramercy Park NY, Kips Bay NY, Murray Hill NY, Peter Cooper Village NY, Stuyvesant Town NY, Sutton Place NY, Tudor City NY, Turtle Bay NY, Inwood NY, Spanish Harlem NY, Waterside Plaza NY, Lincoln Square NY, Manhattan Valley NY, Upper West Side NY, Lenox Hill NY, Roosevelt Island NY, Upper East Side NY, Yorkville NY, Hamilton Heights NY, Manhattanville NY, Morningside Heights NY, Harlem NY, Polo Grounds NY, East Harlem NY, Randall's Island NY
Learn more about the facial and skin care services that Lena Skin Care provides.