Face Wax Harlem NY
What is Facial Hair Removal?
While there are a number of skin care treatments, waxes have shown themselves to be highly effective techniques as they are able to effectively remove the hair and create smoother skin. While shaving and plucking hair have their place, waxes are ideal as they are able to effectively target specific areas of hair and create a smooth, hairless appearance for a period of up to eight weeks. As a provider with over 20 years of experience in esthetics, Lena is committed to giving her clients the very best waxes available in the New York City area. She offers a number of different techniques in order to properly customize her clients' treatments to suit their individual wants and needs. By applying either cool or warm waxes to the unwanted hairs of the face, Lena is able to quickly and cleanly remove everything from coarse hair to peach fuzz so as to create a clean, exfoliated look.
Why Do We Recommend Facial Waxes?
Walking up and down the pharmacy, you're sure to see a number of different hair removal options being marketed. With that being said, professional waxes have a number of benefits that these other options do not. For one, seeking care from an expert is sure to yield more high-quality results. Instead of risking painful cuts from shaving or potentially missing a spot here and there, pursuing treatments from a seasoned professional like Lena is far more likely to give you the results you want and deserve.
Unlike shaving, waxes can last from four to eight weeks, meaning that you don't need to worry about errant hairs for a considerably longer period of time. Frequent clients report significantly reduced hair growth and repeated waxes can even improve the look and feel of the skin over time. It eliminates the hair from the area completely, instead of leaving short stubble. Since the hair is removed to the root, you can expect a completely smooth, beautiful result after each session. Not to mention that, when compared with electrolysis or laser removal, it is a very affordable option.
What Does a Hair Removal Wax Include?
Facial waxes consist of the removal of hair from one or more areas of the body, such as the lip, cheeks, chin, nose, eyebrows, and sideburns. Unlike shaving, waxes remove the whole follicle meaning that the results are longer lasting and yield even smoother skin. Additionally, waxes serve as natural exfoliants which mean that they effectively remove dead skin cells so as to reduce acne. Not only this, but a face wax also damages the follicles which reduces the amount of hair that grows back between each appointment.
At her facial spa, Lena offers precise, customized eyebrow waxing and lip wax treatments designed to give clients a painless wax experience that yields beautiful, quality results. Clients can even choose to receive a full face treatment that involves the removal of hair from multiple areas of the face. This technique is perfect for those who are looking for a sleek look that evens the complexion and brightens the skin. No matter what you are looking for, rest assured that you can receive it at Lena's Skin Care.
Hair Removal Wax by Area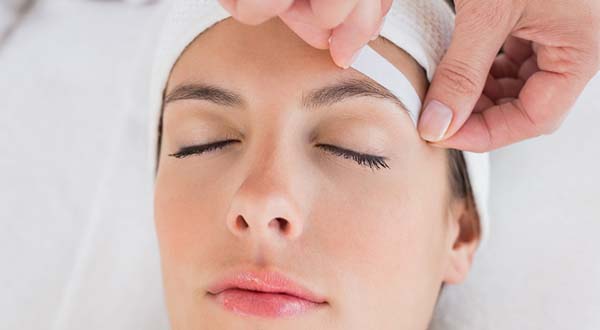 Eye Brow Waxing Harlem NY – Lena Skin Care NYC – Call (347) 289-3879
Eyebrows
Probably one of the most common requests, eyebrow waxing consists of determining the desired shape of the brow, warming the materials, cleansing the skin, applying the warmed face wax to the areas of desired removal, laying strips on the wax, and gently but firmly removing the strips and the hair.
Lena always takes great care in her work and removes the hair while going against the direction of hair growth. This ensures that the hair is removed completing and that there is no bruising that might otherwise result from improper removal of the strip. Once the hair is removed in this way, it's not uncommon for Lena to follow with tweezers in order to remove any strays that are affecting the desired shape of the brow.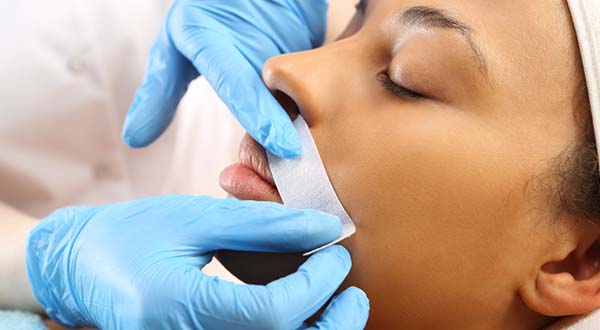 Lip Waxing Harlem NY – Lena Skin Care NYC – Call (347) 289-3879
Upper Lip
The upper lip is yet another area of the face that often requires a Guinot treatment. Lena pays close attention when performing a lip wax so as to ensure that she is placing the strips correctly. As hair typically grows downward around the mouth, it's imperative to ensure that the strips are applied in the direction of the hair growth and removed against it quickly and cleanly. By so doing, Lena is able to provide her clients with a painless wax that reveals cleaner, smoother skin on the upper lip.
Chin
It may surprise you to know that the chin is often a very sensitive area of the face and can occassionally be a place where hormonal imbalances and other issues can cause unwanted hair growth. In cases like these, the client can often be susceptible to ingrown hairs as well as coarse and occassionally abundant hair growth. In order to make the experience as pleasant and pain-free as possible, Lena often applies a warm, moist towel to the area prior to the treatment in order to open up the pores and facilitate the removal of the hair. It's also important with chin hair removal to allow the hair to reach at least 1/4 inch in length as this ensures that the hair will be easy to grip and then remove.
In the chin area, especially, it's important to keep the skin clean and free of moisture both during waxes as well as after. As this area is often prone to acne and sensitive skin, making sure to take proper care of the area will help prevent breakouts as well as keep the area from becoming overly sensitive during treatment.
Cheeks
When it comes to our cheeks, peach fuzz is often a common issue. Since peach fuzz can negatively impact the brightness of the complexion, many individuals choose to have it removed on a routine basis. At her clinic in Manhattan, Lena has assisted many individauls in ridding their cheeks of unwanted hair and peach fuzz through the use of hard waxes, as this option has proven to be superior then soft waxes in most cases. By applying the strips in the direction of hair growth and placing on both sides of the face, Lena covers the cheeks in strips to form a mask. Once the strips harden, they are removed and a lotion used to soothe the skin of any irritation.
Ears
Ears are certainly not immune from unwanted hair growth, and men in particular often find that their ears can become hairier than they desire. The outer areas of the ear, in particular, seem to be the most commonly treated area. For ears as well, Lena typically prefers hard waxes. She first covers the area with strips, waits for them to harden, and then removes them. It's important to note that this treatment is only performed on the outside of the ears so it poses no risk at all.
Nose
While the top and sides of the nose can often be waxed along with a cheek or forehead treatment, the inside of the nose requires it's own strategy. Since it's quite common for unwanted hairs to protrude from the nose, Lena has assisted clients by applying waxes to cotton swabs and applying to the inside of the nose, allowing them to dry somewhat, and then removing both them and the errant hairs. Such a simple strategy is really quite effective at producing a cleaner, more presentable appearance.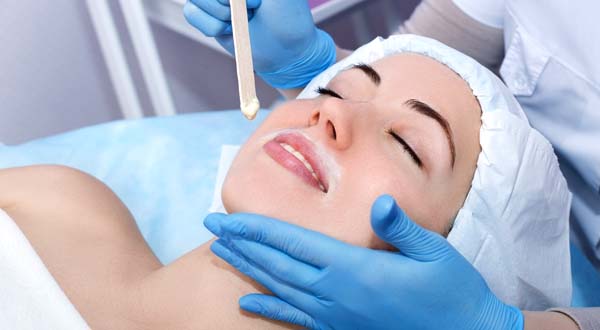 Face Wax Harlem NY – Lena Skin Care NYC – Call (347) 289-3879
Contact Lena Skin Care to Schedule a Face Wax
If you are looking for a facial spa that can provide you with quality skin care treatments, look no further than Lena's clinic. You're sure to be impressed by Lena's gentle approach and her expertise, as she has spent over 20 years perfecting her techniques and assisting clients with their skincare needs. Whether you're interested in hair elimination treatments or other spa services, we would love to help you find the best therapy for you. Give us a call today at 347 289-3879 to schedule an appointment or to learn more about the services we offer.
Face Wax Harlem NY
Lena Skin Care NYC provides face waxing for clients from New York, NY and these surrounding areas:
New York NY, Manhattan NY, NYC, Bronx NY, Brooklyn NY, Queens NY, Staten Island NY, Battery Park City NY, Financial District NY, TriBeCa NY, Greenwich Village NY, Little Italy NY, Lower East Side NY, NoHo NY, SoHo NY, Chinatown NY, Wards Island NY, Washington Heights NY, West Village NY, Alphabet City NY, East Village NY, Lower East Side NY, Two Bridges NY, Chelsea NY, Clinton NY, Gramercy Park NY, Kips Bay NY, Murray Hill NY, Peter Cooper Village NY, Stuyvesant Town NY, Sutton Place NY, Tudor City NY, Turtle Bay NY, Inwood NY, Spanish Harlem NY, Waterside Plaza NY, Lincoln Square NY, Manhattan Valley NY, Upper West Side NY, Lenox Hill NY, Roosevelt Island NY, Upper East Side NY, Yorkville NY, Hamilton Heights NY, Manhattanville NY, Morningside Heights NY, Harlem NY, Polo Grounds NY, East Harlem NY, Randall's Island NY
Learn more about face waxing and other skin care services that Lena Skin Care provides here.